Check out our upcoming Aussiedoodle puppies.
Breeder, Not For Sale
Bessie is another one of our home grown females. Bessie is the daughter of our wonderful Maize and Ace. Bessie stands 16.5″ tall and weights 23 pounds. Bessie is starting her Mother hood with Gator. We hope to see a litter from Bessie in the fall of 2018. Bessie has a very sweet personally. She […]
Breeder, Not For Sale
Reba is a home grown white/chocolate F2 Parti Aussiedoodle.  Her mom is Melody.., dad is Gator, on the males page.  Reba is 14.5 inches, weighing 22 pounds.  She is a really cute girl with a great personality.
Breeder, Not For Sale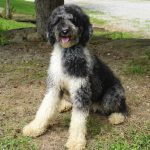 Double R God's Gift…aka GiGi, is a standard blue merle F2 Aussiedoodle female.  GiGi is home grown, both of her parents were born and raised right here.  GiGi has it all, correct size, excellent confirmation, nice white trim, and a prize winning personality.  She stands 20 inches, weighs 45 pounds.