The Shepadoodle is a great doodle. They are a mix with a German Shepard and Standard Poodle. Very smart, easy to train and make wonderful family and or service/therapy dogs. Size will be 40+ pounds with some reaching 80-100. They are truly a gentle, kind and loving dog.
Check out our upcoming Shepadoodle puppies.
Breeder, Not For Sale
Double H is a home grown boy.  He was born and raised right here at the Double R.  His mom is Shantel our GSD his dad is Duke our black Poodle, now retired.  That makes "H" an F1 or first cross…50% each breed.  He looks like an Irish Wolfhound with his ruff, wiry hair coat.  […]
Breeder, Not For Sale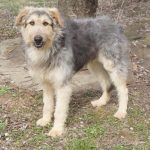 Double R Deeks is a F1 and will be the start of a new line here at Double R. He is very sweet, does not bark much and loves people. His beautiful markings should make wonderful puppy's. Deeks weight around 70 pounds and stands 24″ tall.