The Shepadoodle is a great doodle. They are a mix with a German Shepard and Standard Poodle. Very smart, easy to train and make wonderful family and or service/therapy dogs. Size will be 40+ pounds with some reaching 80-100. They are truly a gentle, kind and loving dog.
Check out our upcoming Shepadoodle puppies.
Breeder, Not For Sale
Shep is a BIG BOY!! He is out of our Poodle Lance and this handsome boy is a looker! He will make puppies with perfect temperaments, color, and stout confirmations! Shep is 28 inches tall at the shoulder and 80 pounds. We are excited to welcome such prestigious genetics to our breeding program.
Breeder, Not For Sale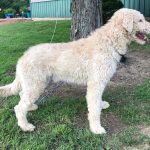 Brome is an Multigen Shepadoodle.  He stands 26″, weighing 70 pounds.  Brome has an AWESOME  personality, he has a sense of humor with a loving attitude.  His frame is solid, he has large bones, excellent construction!  This boy will hold up over the long haul.  Brome has it all, excellent temperament, good confirmation, wonderful non […]
Breeder, Not For Sale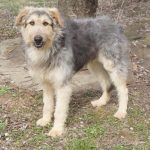 Double R Deeks is a F1. He is very sweet, does not bark much and loves people. His beautiful markings really stand out! Deeks weight around 70 pounds and stands 24″ tall.