They are exactly what they sound like…German shepherd, Australian shepherd, and Poodle all combined in one to make the "Einstein" of all dogs. Their superior level of intelligence is far beyond any other breed and they come in every color available! The Gr. SD is the best breed for a service dog out of all the doodles that Double R Doodles raise, however they still are just as suitable as a family pet. The ability to comprehend tasks and obtain proper skills from training is heightened through the Gr. SD since three of the most intelligent canines are bred into one elite animal. The Gr. SD is quick to learn, structurally sound, still hypoallergenic with little to no shedding. Talk about getting all the good stuff in one package.
***PICS ARE PREVIOUS PUPPIES HERE AT DOUBLE R DOODLES TO SHOW COLORS AND COAT TYPES***
3 Adult DD X Deeks kids from first litter in above puppy collage.
***NO EARLY DEPOSITS…Deposits are only taken when a puppy has been assigned a code & advertised on the available puppy page***
***A puppy is reserved ONLY when a deposit/health guarantee form & PayPal deposit have been received. NO EMAIL or PHONE CALL claims will be valid***
Available, Available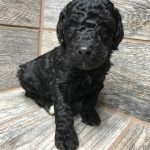 POODLE Male #7 Why do we have poodles?? Well poodles are hard to find so we decided to raise our own!! Here are gorgeous standard poodle puppies at an affordable price AND they will be registered!! We were tired of looking online for poodles to add to the kennel because they were seriously priced no […]
Available, Available
POODLE Female #5 Why do we have poodles?? Well poodles are hard to find so we decided to raise our own!! Here are gorgeous standard poodle puppies at an affordable price AND they will be registered!! We were tired of looking online for poodles to add to the kennel because they were seriously priced no […]
Available, Available
POODLE Female #4 Why do we have poodles?? Well poodles are hard to find so we decided to raise our own!! Here are gorgeous standard poodle puppies at an affordable price AND they will be registered!! We were tired of looking online for poodles to add to the kennel because they were seriously priced no […]