The Shepadoodle is a great doodle. They are a mix with a German Shepard and Standard Poodle. Very smart, easy to train and make wonderful family and or service/therapy dogs. Size will be 40+ pounds with some reaching 80-100. They are truly a gentle, kind and loving dog.
Check out our upcoming Shepadoodle puppies.
Breeder, Not For Sale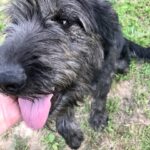 Cinder is a home grown beauty out of Shantel X Lance! She is a big boned shepadoodle with an excellent temperament and sweet personality! She is 22 inches at the shoulder and 55/60 pounds.
Breeder, Not For Sale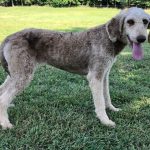 Briar is a 'Super Cool' Shepadoodle female.  She carries the markings of the GSD with a slight twist…she has some unusual body coloration mixed into her hair coat.  Briar stands 24.5 "s @ her shoulder, weighing 52 pounds and she is no where near done growing.  We really like what we are seeing in this […]
Breeder, Not For Sale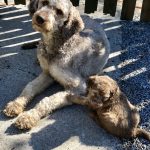 Deja is a full size standard F1b/multigen Shepadoodle.  She is 24 inches tall and 60 pounds! Her color is vibrant and really resembles the Cafe Au Lait derived from the poodle. This cream, chocolate, and apricot mix with a brown nose is truly unique for this one of a kind lady!  She will throw awesome […]