The Shepadoodle is a great doodle. They are a mix with a German Shepard and Standard Poodle. Very smart, easy to train and make wonderful family and or service/therapy dogs. Size will be 40+ pounds with some reaching 80-100. They are truly a gentle, kind and loving dog.
Not For Sale, Not For Sale
Double R Shantel is a lovely black and tan German Shepherd Dog.  She stands 23 inches at her shoulder, weighing 60 pounds.  She is friendly, eager to please, she has never shown an aggressive nature.  We are looking forward to making F1 Shepadoodles with this beautiful girl!
Not For Sale
Double R Zin is a gorgeous F2 silver  female with cream markings.  Zin is a big girl standing 24 inches, weighing 55 pounds, she is still young and has more growth before she tops out!  Zin has the German Shepherd temperament…she watches, makes a decision, then acts!  She waits to form an opinion of strangers…she […]
Not For Sale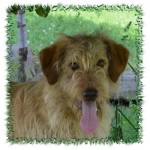 Double R Ulka is an F1b female…her mom is Glory, her dad is The Hawk!   Due to her smaller stature, she is 20 inches at the shoulder weighing 45 pounds, we will most likely use her in our German Shepaussiedoodle breeding program!  We are thinking of breeding her to a moyen blue merle Aussiedoodle […]