The Shepadoodle is a great doodle. They are a mix with a German Shepard and Standard Poodle. Very smart, easy to train and make wonderful family and or service/therapy dogs. Size will be 40+ pounds with some reaching 80-100. They are truly a gentle, kind and loving dog.
Check out our upcoming Shepadoodle puppies.
Breeder, Not For Sale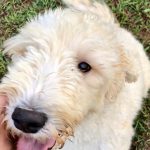 Siggy is an F2 Shepadoodle we apologize for these pictures of her, they will have to do until she weans her current litter, regains her girlish figure, and grows out her hair coat.  Then we will do a nice photo shoot and do a proper presentation.  These pix will just give you an idea of […]
Breeder, Not For Sale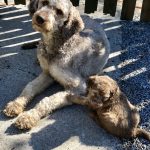 Deja is a full size standard F2 Shepadoodle.  She is 24 inches tall and 60 pounds! Her color is vibrant and really resembles the Cafe Au Lait derived from the poodle. This cream, chocolate, and apricot mix with a brown nose is truly unique for this one of a kind lady!  She will throw awesome […]
Not For Sale, Not For Sale
Double R Shantel is a lovely black and tan German Shepherd Dog.  She stands 23 inches at her shoulder, weighing 60 pounds.  She is friendly, eager to please, she has never shown an aggressive nature.  We are looking forward to making F1 Shepadoodles with this beautiful girl!