The German Shepaussiedoodle came to be one day when Kris was doing some thinking and praying. The kennel goal is to raise the best family, service/therapy dog possible. So the idea came to mind of taking the two smartest doodles (the Aussiedoodle and the Shepadoodle) and breed them together. Now we have a signature line elite to our kennel and what we feel is the Einstein of the doodles. Size can be 40+ pounds and color will vary. We hope you will enjoy our specialty line as much as we have.
Check out our upcoming German Shepaussiedoodle puppies.
Not For Sale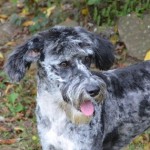 Jazzie is our youngest blue merle German Shepaussiedoodle female.  She is a beautiful young "Lady"…she is an asset to our breeding program.
Not For Sale
Double R Sparkle…our blue merle female…she is a hoot!  Sparkle is  shown in her "lion look", with a full coat, and shaved down, she has a variety of LOOKS.
Not For Sale
Double R Zada is a blue merle German Shepaussiedoodle female.  Zada stands 19.5 inches, weighing 37 pounds.  Zada has a lovely, calm, personality.  She is happy, friendly, playful…she also knows when to lay down and be quiet!  Zada is 50% Poodle; 25% Australian Shepherd; and 25% German Shepherd…hard combination to beat…she is the ULTIMATE designer […]